Country's Best Event Planning Company
Party Gear
We offer premium event decorations in Michigan, bringing your dream wedding decoration ideas to reality
Our wedding photo and videographers have an in-depth, artistic approach when it comes to filming wedding videos and capturing photos

We cover 360 videos with best technologies. Before the special day, they will connect with you and help you carefully plan out your wedding 360 degree videos
Article about Party Gear at The Detroit News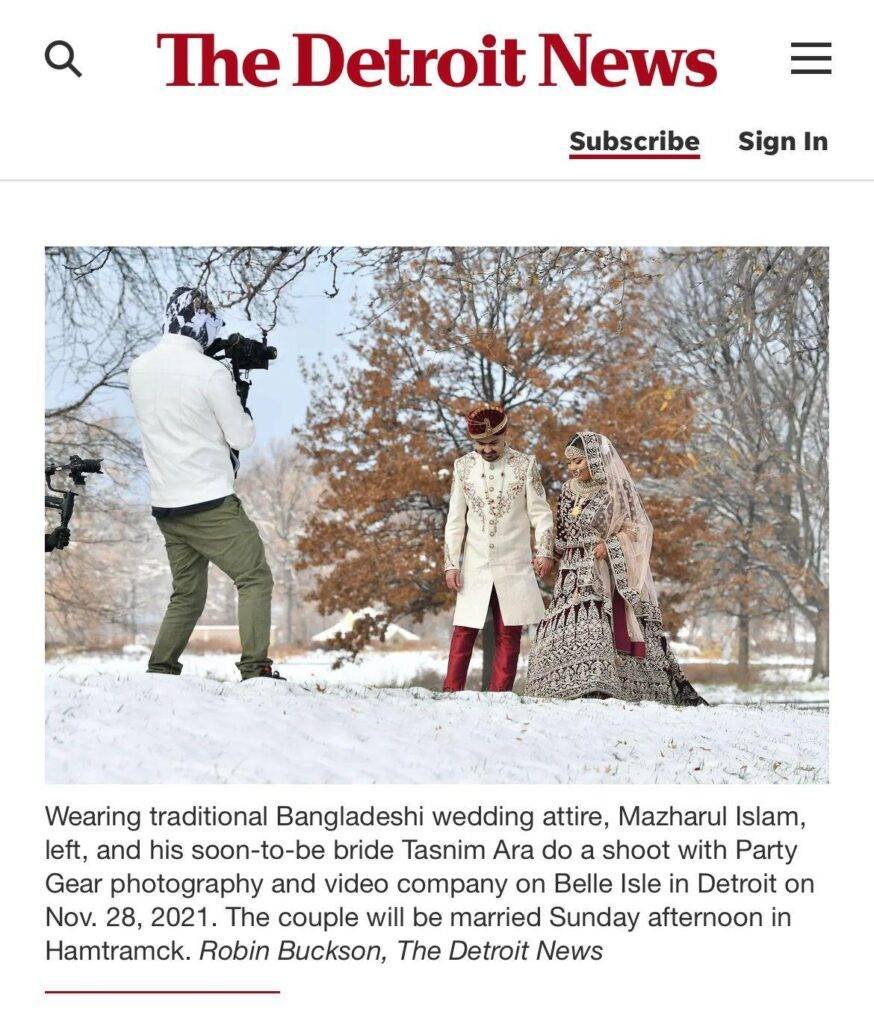 We combine our years of experience and your dream wedding vision to create something just as unique and special as you have always hoped for. From the big logistics plans to the dainty details, from laughing moments to the crying ones, we want you to experience every second of the big day with warmth and affection, preserving them in beautiful pictures and videos.
We whole-heartedly believe that wedding planning comes with a great deal of stress. And so, it is our mission to treat you with the best wedding planning services in Michigan. We work closely with you during the entire process, keeping you at the center of each decision and helping you every step of the way.
"Life is an event. Make it memorable"

– Party Gear

Takiyah Calhoun
Party Gear was an AMAZING choice for our wedding…From the initial contact until the very end! Accommodating, professional, and had a willingness to give us what we needed and wanted! They are the only photographers/videographers that I will recommend!
Sarbnoor Gill
I hired Party Gear for my wedding and they have done a wonderful job. They were attentive, easy to work with and professional. They provided anything and everything we needed and everything was perfect….décor, flowers, Dj, Photo-Video. Can't thank them enough for the services they provided. Excited to work with them again on my sister's wedding.
Wasimur Rahman
Party Gear have done an Extraordinary Job...Very Professional Photography and DJ and much more... Highly Recommend !!!

Shadow King
Party Gear went above and beyond to capture unforgettable wedding memories that we will cherish for the rest of our lives. The Party Gear professional team turned our wedding into a stunning event. We will be eternally thankful for all of our pictures and videos, which turned out fantastically! I will strongly recommend them to anyone looking for photography or videography services.

Sarah Cole
Loved the way they did everything for my wedding. They provided amazing services at an affordable price. Would reccommend.

Nishita Patel
Very satisfied with the service provided by Party Gear. Loved the photos taken at the event. Will recommend.
Emily Gorkowski
I love the fact that they put everything on a cd for the photos and the video so that you can go back and remember the moments that you had at your wedding
Anwar Ali
Great customer service. They care about their clients and work closely to make sure the quality of service. Would highly recommend.